The Périgord is made up of five countries each with its own capital: Périgueux, Bergerac, Ribérac, Nontron and Sarlat.
The Dordogne department is located at the crossroads of geographical and climatic influences which give it its exceptional diversity of natural environments and landscapes. The department concentrates on its territory natural and heritage riches of international renown.
Here, peaceful rivers, lazy streams, beautiful valleys where the rivers draw wide curves: Nature here does not threaten man, but seems made to make his life easier.
On land, on the water or in the air, go as a family, as a couple or with friends to discover one of the French departments with the greatest number of riches.
The city of Brantôme : Green Venice of Périgord, Brantôme is a major tourist and cultural place in the department. Its cultural and tourist activities, the reputation of the restaurants make it a center where culture and gastronomy come together in excellent conditions.
www.perigord-dronne-belle.fr
The department is very rich for its villages, medieval cities, castles which are renowned for their beauty and authenticity: St Jean de Côle (one of the most beautiful villages in France), Nontron, Brantôme, Beynac, Sarlat, St Léon Sur Vézère, Castelnaud La Chapelle, Périgueux, Château de Puyguilhem, Château de Monbazillac,… It is one of the richest departments in France, after Paris, for the number of historical monuments.
Many caves and prehistoric sites are must-sees in the region: Lascaux caves, Villars caves, the prehistoric sites of Cro Magnon, etc.
A multitude of tourist activities are available in Dordogne: Tourist train or carriage rides, descent of the Dordogne, Dronne or Vézère by canoe or barge, helicopter or hot-air balloon rides, vélorail rides, etc.
The Dordogne has many bodies of water where swimming enthusiasts can take a dip, others can go fishing.
Many art studios are gathered for you, they invite you to walk through their doors. Discover exceptional know-how during your walks in the Dordogne. Among others, the Nontron cutlery which benefits from several centuries of experience in the manufacture of traditional knives.
www.dordogne-perigord-tourisme.fr
Gastronomy in Dordogne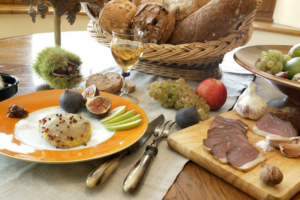 It is enough to evoke the Périgord to associate with it images of beautiful tables: truffles, foie gras, confit and duck breast, omelettes of porcini mushrooms, Sarladaise potatoes, walnuts, strawberries. , chestnuts, scrapings, pâtés,… Without forgetting renowned wines: Bergerac, Pécharmant, Monbazillac, Saussignac and Montravel. In addition to tasty hearth, Périgord cuisine promotes longevity and good health. In Périgord, land of good living and good flesh, eating well improves life expectancy!!
"Périgord, for those who have never been there, what a land of plenty, what a tempting paradise, where gluttony is never punished or disappointed, and can indulge in its most unreasonable outbursts."
Markets in Dordogne
Traditional, local producers, nocturnal and festive, fat, the markets are essential in Périgord. Meet the producers and savor the local products in the best conditions. Each season has its products.